Nozzle
Micro Droplet Nozzle produced by HS HI-TECH is a cutting-edge solution of semiconductor cleaning equipment, which can remove 20mm device node particles. Since the first release of the product in 2014, we have supplied over several hundreds of sets to famous Korean equipment manufacturing firms.
Contact us
Production Reference
Drag the table to the side.
Specifications
Quartz Nozzle
PEEK Nozzle
Prototype
Quartz
Nozzle A
Quartz
Nozzle B
Quartz
Nozzle C
Hole Size

6㎛ ~ 18㎛ (Spec. Range Customizing)

Droplet Size

14㎛ ~ 30㎛
Comparison between Twin Fluid Nozzle and Micro Droplet Nozzle
Twin Fluidic Nozzle

Principle

twin fluid (DIW+N2) nozzle-based physical cleaning- comminution with droplet utilizing gas pressure

Factors influencing droplet size

Nozzle form, Fluid velocity, Gas pressure

Features

- Expands droplet distribution
- Can produce large amount of droplets
- Controls droplet diameter and velocity at about 20% of standard deviation
- Cannot control velocity of constant droplet size
- Could have wafer damage due to some large-sized particles

Mocro Droplet Nozzle

(HS HI-TECH)

Principle

twin fluid (DIW) nozzle-based physical cleaning - Control the velocity of constant size as piezo element vibrator gives vibration to liquid stem sprayed from micro holes.

Factors influencing droplet size

Nozzle Hole Size, Fluid Velocity, Vibration Frequency

Features

- Can control droplet diameter and velocity within 2% of standard deviation
- Enhanced particle removability by controlling diverse kinds of particle sizes
Application Area
HS HI-TECH's Micro Droplet Nozzle is applicable to not only semiconductor cleaning but also diverse industrial sectors such as electronics, pharmaceutical and bioengineering.
Precision Dispensing Coating
Create homogeneous submicrometer-thin film.
Can support precision control over variables including nozzle velocity, height and fluid velocity.
Can control the distribution degree of droplet diameter and velocity within 2%
Emulsion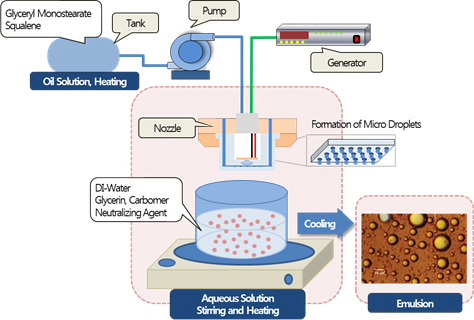 Key technology utilized to deliver pharmaceutical substance or functional substance
Large amount emulsion production up to maximum 100cc/min (1,000 times of the existing micro fluid system)
Spraying Suspension Polymerization Process
Can produce mass amount of magnetic high-molecule fine beads.
Secure uniform size and constant magnetic iron content.
Can produce mass amount of high-quality magnetic high-molecule beads.
Wet-clean System : HPU System
The product is applicable to various research areas including academic study on fluid, precision distribution, coating, spraying, and microfluidic engineering; and has been supplied to main universities including the Seoul National University.
The entire system can be customized according to customer request.
Provide specific organic chemical substance droplet with diameter as small as tens of micrometers
Can dispense several hundred microliters of high-speed flow chemical substance.
System
Composition

Process chamber

- Micro Droplet Nozzle
- Nozzle Arm
- Motion Motor (Z-axis)

Chemical Supply System

- Metering Pump
- Micro Filtration Parts

Electrical & Control Module

- Ultrasonic Generator
- Flow and Motion Controller

Control Software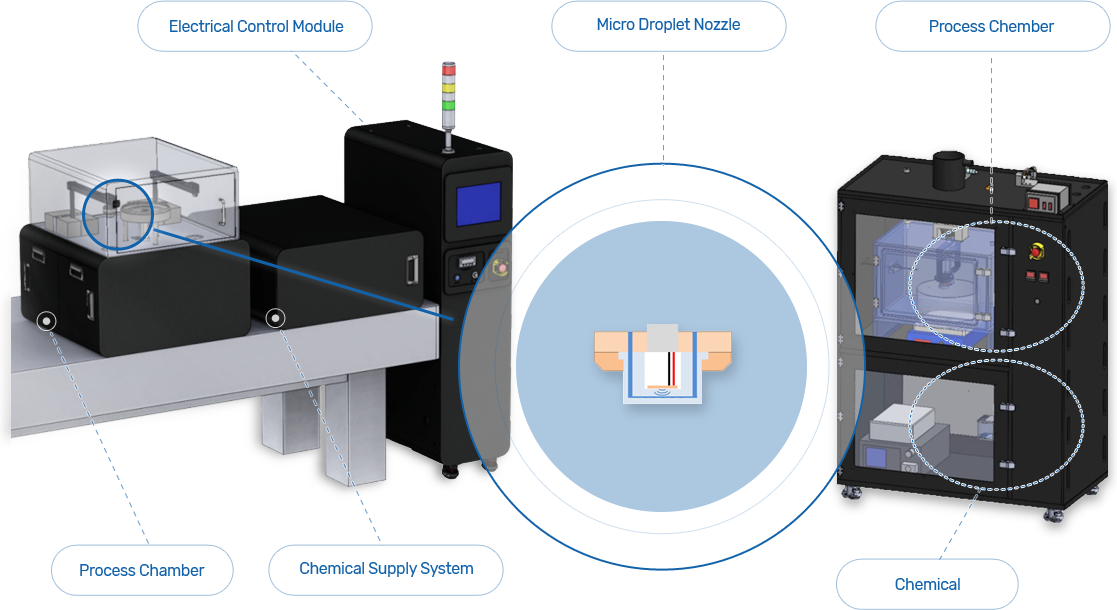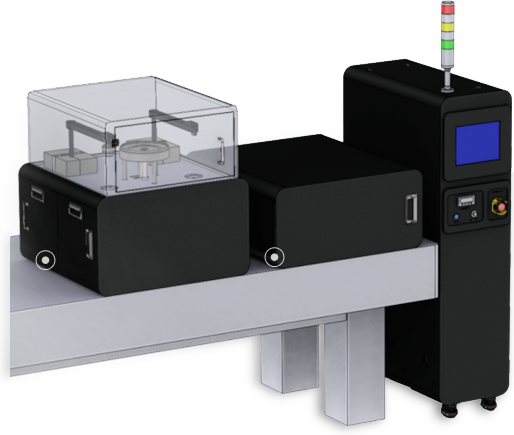 Electrical Control Module
Process Chamber
Chemical Supply System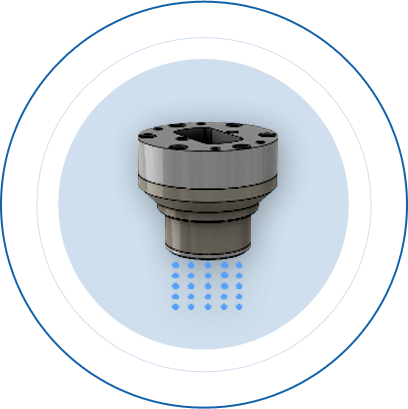 Micro Droplet Nozzle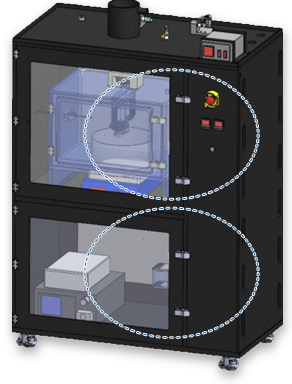 Process Chamber
Chemical
Figs 9. HS-HITECH Micro droplet Nozzle HPU system